Joined

Jan 2, 2019
Messages

249
Reaction score

86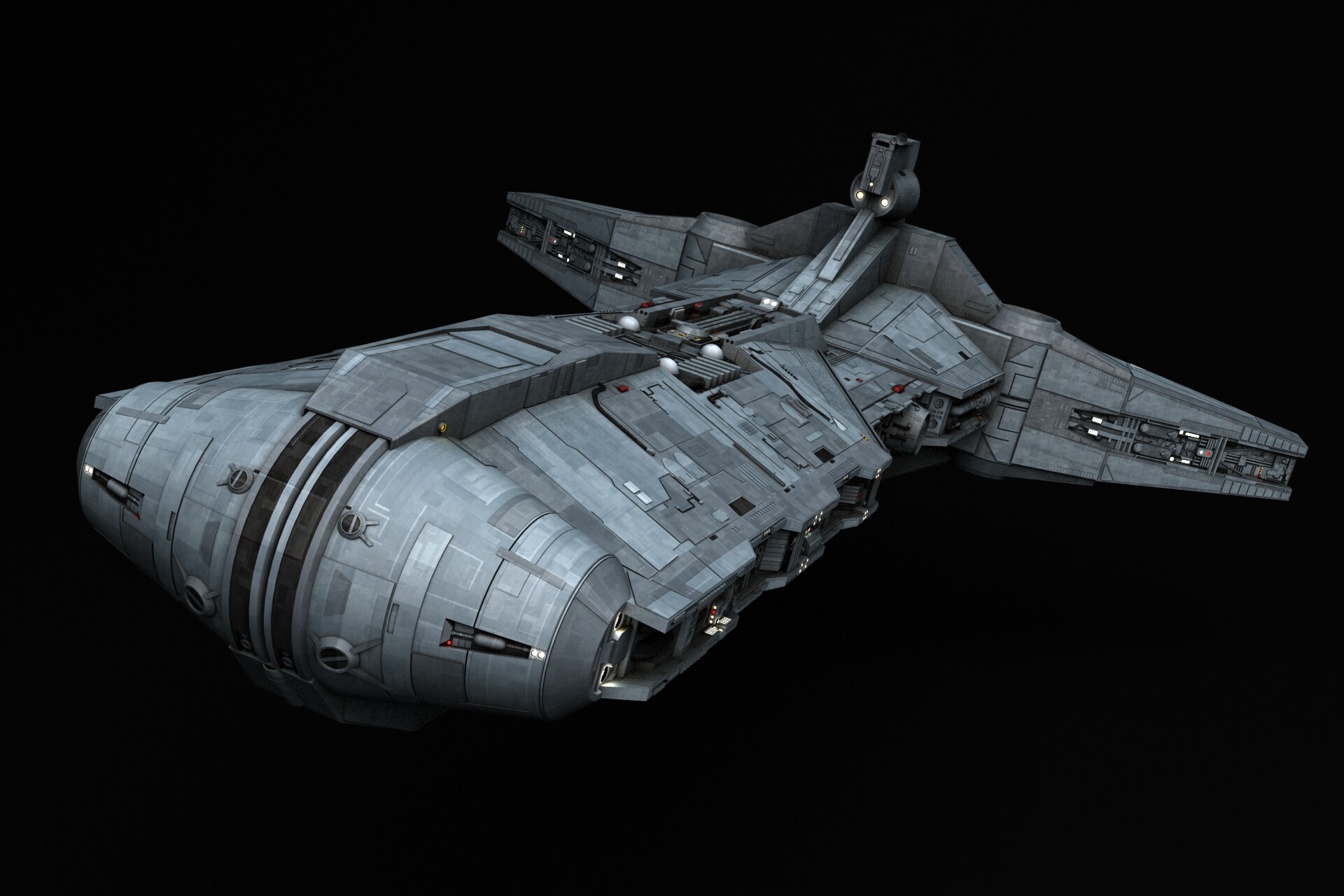 Aminos Carrier
AFFILIATION


Republic

MANUFACTURER
Kuat Drive Yards

CLASS
Frigate


ROLE
Multi-Purpose
- Bulk Transport
- Medical Ship

COMPOSITION
Durasteel and Cleartanium

DIMENSIONS
282 Meters Long


CREW
15 (40 Pilots)
PASSENGER CAPACITY
0
CARGO CAPACITY
0
HANGAR CAPACITY
36x starfighter/light starbomber.
2x shuttles
CONSUMABLES
5 Months
SPEED/MANEUVERABILITY
The
Pelta
-class frigate has a top speed of 30 MGLT and has sluggish maneuvering characteristics.
ARMAMENT
x8 Point Defence Dual Laser Cannons
x2 Dual Light Laser Cannons
x1 Medium Tractor Beam Emitter
EQUIPMENT
DESCRIPTION​
The
Pelta-class frigate
was a versatile model of
frigate
manufactured by
Kuat Drive Yards
that had several different configured variants. This one in particular was either used as a medical transport or bulk freighter, but has been heavily scrapped of most of its identifying tech. After floating adrift in space along with a light carrier for many years, it was found by a pilot who quickly sold its location to a local crime lord who then started salvaging the wreckage. The only thing left that had not been salvaged yet, was the backup hyperspace drive, escape pods, and life support systems. The salvaging operation was interrupted by the Trinity Pirates and the ship and what was left of it, were taken.
The shell was then transported to the Blackwell Industries Ship Yard, where it was given a complete overhaul as part of deal struck with the ORI: Outer Rim Industries. The ship was to be made into a light carrier. It was modeled after the
Shogun-Class Carrier
but at almost half the size. All of the ships cargo space as well as 90% of the crew space, was gutted and transformed into additional hanger space. Five crewmen are needed to pilot and operate the ship, while ten additional are needed to control the 10 different armament positions. Small crew space was created for the 15 crew plus 40 pilots.
The ship itself is no match for any capital ship with turbo lasers, but can hold its own against most swarms of smaller craft. The Aminos was created to be a flying hanger and is most effective as part of a much larger fleet with capital ship support.
The hanger is equipped with 36x
X eighty-three TwinTail starfighter
s and two standard boarding shuttles.
LEGALITY​
It is restricted to people with military and planetary defense licenses. Due to its typical heavy armament in its various roles, it would be heavily searched if not under proper licensing.
INTENT​
So that I could make a faction mission pack with the goal of restoring this ship to be used by the Pyke Syndicate. This is the finished product of a mission pack completed by the Pyke Syndicate.
RESTRICTIONS​
As a Capitol Ship, this ship is unable to be used by a single character and must be used by a faction asset, only.