Character Profile
OOC

Ecclessey
Joined

Jan 6, 2020
Messages

321
Reaction score

182
[OOC: open to reactions only]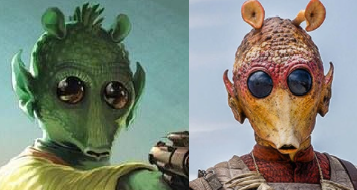 The news tune plays and a camera moves away from the Crime Wach News logo to pan in to the Zeltron and Rodian anchors. The head-anchor Rynn Run and his beautiful co-ancher Vana Walk... No wait, is that Preef Callo!? And they're clearly not in their usual studio but a.. a throne room? What the kriff is going on tonight?

Rynn, a true professional, scrapes his throat and shuffles the two datapads around on a makeshift table.

"Welcome to Crime Watch News, I'm Rynn Run,"

his voice sounds like it has a different color tonight and he swallows before looking to his right, where the legendary gunslinger Preef Callo sits, smiling to the camera. "Joined today by none other than the Legendary Gunslinger-" was he forced to say it with just awe and high esteem, it sure sounded like it,

"-Preef Callo."



Silence. Preef missed his cue, made a side-eye glance to someone off-screen and then dropped his smile to focus on something, also off-screen.

"Thank you for being here, Rynn-"

the smile returned like a kid who just accomplished a minor task that he is nevertheless really proud of. "-for I am proud to announce that today you'll have a Huttaciding-scoop!" Kriff, the pun was unbearable, but nevertheless Preef got right up from his chair and his signature Peacemaker was for all to see.

In the background a shackled Bira the Hutt was walked in. Bira had been put in charge of Nar Shaddaa during the flight off the moon by the other Hutts, making her the highest ranking member of the Hutt Cartel still on the Shaddaa. She looked downright miserable, which was to be expected for she probably knew what was happening and even the viewers might be able to guess it by now, too.

"You mean exciting scoop, right, mister Callo?"

Rynn said in an attempt to preserve his professionalism and save his career, but the other rodian shook his head.

"It's that, too, Rynn. It's that, too. But more importantly-"

he removed his peacemaker from its holster and casually turned to the camera.

"You all know I'm from Nar Shaddaa,"

he told the audience as they had no doubt watched his 'origin Holomovie' before, "You know the Hutts rob the people of this moon at their own leisure, work them to death and then discard them. They killed my parents and forced me into slavery when I was only eight years old. They've done it to millions like us."

Rynn looked worried, but not even the coreworld news professional could deny the sad truth that was the Hutt modus operandi on the worlds they owned. Preef seemed ready for his statemtent;

"So, as of right now-"

he leveled his blaster with Bira and fired a shot at point black range right into her chest. The Hutt slumped to the ground, dead, and Preef merely reholstered his pistol.

"I declare the Smuggler's Moon officially Hutt-free."

that was one hell of a statement to make during a bonafide Hutticide. No doubt it would start an all out war between the syndicates right smack in the middle of the AMS pandemic, but Preef didn't seem to care one bit as he casually returned to his seat at the table.

The head-anchor of Crime Watch News didn't know if he should be happy he just got the scoop of a century, to have the exclusive that for the first time in millennia Nar Shaddaa was not in the control of Hutts nor where there any slugs physically present on the moon itself, or if he should fear for his life for forever being associated with this underworld-dividing act. Regardless of his own future, Rynn was reminded that he had some prepared questions to ask the boss of the Crymorah Syndicate.

"But who will now run Nar Shaddaa?"

he asked, almost rhetorically. Preef Callo's smile faded a bit again as he had to focus on reading something off screen. "The Crymorah Syndicate has taken steps to ensure the safety of the people of Nar Shaddaa. More reinforcements, fully equipped to protect them from the AMS virus, will soon arrive onboard a capital ship The Emancipation." He was talking about another army of droids, because ofcourse he was. There was no way he was going to lose Nar Shaddaa to any of the other syndicates now.



"Do you expect retaliation from the Hutt Cartel?"

Rynn asked and Preef just smiled and shook his head.

"Rynn, you gotta understand. The Hutts not only engineered the AMS virus, but they left the ordinary people to their fate while they hide in their fortresses. Have you seen the cartel do anything to help? All I've seen is them threatening to bombard entire planets because someone found a way into their treasured vaults."

he said, referring to Mataou.

"I've acted for the best interest of the people, not to expand my own power, and the other syndicates will see it that way, too."



and then it was eerily quiet as Preef seemed to have run out of rehearsed and pre-written statements and Rynn just sat there, stunned, trying not to the turn around to look at the body of the dead Hutt. Preef Callo had really had him fly over with his entire crew to film an act of Hutticide right here in Hutt Space. Kriff.. was he ever going to get home? Would they be forced to film Crime Watch News from the Smuggler's Moon now? Was this the last episode, ever?

Kriff,

"For Crime Watch News, this was Preef Callo and Rynn Run. Good night, and good news."