Community Admin
Administrator
SWRP Supporter
Joined

Jul 4, 2017
Messages

2,996
Reaction score

1,577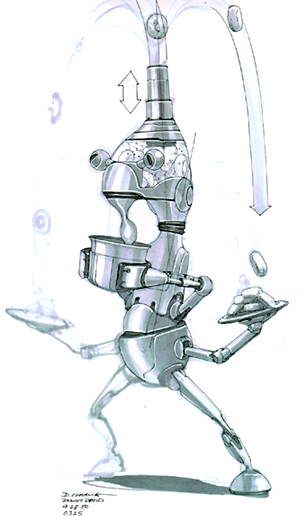 Crisp-E-O Donut Droid
​
Affiliation:


Open Market



Manufacturer:


Blackwell Automata



Class:


Cooking Droid



Locomotion:


Bipedal
Power Supply:
72 rechargable power cell
Sensors:
2x audio receptors
2x photoreceptors
1x motion sensor
Size:
1.3 meters
Composition:
Duraplast, Transperisteel
Tools and Equipment:
1x coffee maker
1x donut maker
1x hot oil fryer
1x donut recipe database
1x reader socket
1x abdomen plate storage
2x magnetic feet
DESCRIPTION​
The Crisp-E-O donut droid is designed for culinary purposes that was produced around 1000 BBY, designed by an unknown company, but it's schematics were found and recovered in an
abandoned factory
, and recently assimilated into Blackwell Automata and is now being produced by them. This droid did populating the kitchens of diners, cafes, and fancy restaurants alike, was droid overlooked, underrated powerhouse of the galaxy donut and coffee-making industry, but became very popular over time until the model line was discontinued over the ages. Like all droids, the Crisp-E-O donut droid will develop a personality without routine memory wipes. These droids did still allow the Crisp-E-O to develop a personality, it's personality manifesting itself in the form of a very dirty vocabulary and a cranky demeanor, reflecting the nature of the chefs. It is not unusual for a Crisp-E-O to emit a scream of curses that last well over a minute after it drops a plate.
There are some modifications from the old version to the Blackwell version, a slight change in composition and slightly larger size as well as magnetic feet.
Inside the Crisp-E-O are several tools that allow it to perform its function. It can make up to a dozen donuts a minute on a busy night, in addition to making a cup of coffee at the same time. Due to its ability to perform both mundane and complex tasks at the same time while simultaneously making food, the Crisp-E-O has been said to be among the most useful kinds of droids in existence. The droid has a database of over 3000 donut recipes with an update from Blackwell. True to the older model; the Crisp-E-O is known for being very upset, even to the point of clinical depression, if it is not allowed to perform its function. Their constant existential crises prevent the Crisp-E-O from being used in other everyday matters. The grip of a Crisp-E-O is said to be vice-like, a side-effect of its near-obsessive tendency to make food.
LEGALITY​
Legal.
INTENT​
To bring back a gem of a droid from the 6th timeline, so that it may make donuts for everyone. Who doesn't like donuts? Credit to
@Crim
for the
original write-up
.
Last edited: