NPC Moderator
Story Moderator
Joined

Dec 3, 2011
Messages

1,232
Reaction score

53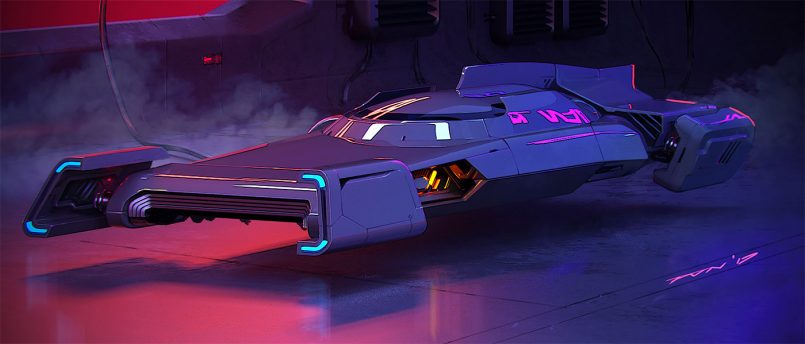 Chromium Whip, "

Arcene

"
AFFILIATION


Hannibal Grayza

MANUFACTURER
Krijell Raceworks/Hannibal

CLASS
Airspeeder.

ROLE
Sport repulsorcraft.

COMPOSITION
Durasteel, chromium, transparisteel.

DIMENSIONS
7m in length


CREW
1 pilot
PASSENGER CAPACITY
1 passenger
CARGO CAPACITY
120 kilograms
HANGAR CAPACITY
N/A
CONSUMABLES
2 standard days
SPEED/MANEUVERABILITY
The
Arcene
has a top speed of 1,000 kph and can reach an altitude of 1.5 kilometers. It has decent maneuverability.
ARMAMENT
EQUIPMENT
1x integrated comlink.
1x holographic entertainment system.
1x computerized navigation system.
1x climate control system.
1x luxury interior.
2x power-adjustable seat
2x front illumination
DESCRIPTION​
The
Arcene
is a high-performance airspeeder, a custom rebuild derived primarily using internals from a
K-4 Meteor
he won during a game of Sabacc. She is an impressive craft, boasting a top speed of 1,000 kph and a flight ceiling of 1,500 meters. It can seat 2, a pilot and a single passenger, with storage for up to 120 kilograms of cargo. The craft is well appointed with luxury features, including a holographic entertainment system, computerized navigation system, an integrated comlink, a climate control system, power-adjustable seating and rich
nerf
-leather upholstery.
The body is covered in a polished sheen of bonded chromium and, like Hannibal's prior rebuild project, utilizes high-power repulsor plates at the front and back, two pairs, to ensure smooth braking and maneuvering at all times. The modified engine thrums and purrs in a pleasing fashion when active. The side doors open automatically using a small control, and the interior also includes an ashtray along with a temperature controlled drink compartment for 'juice', if anyone asks.
LEGALITY​
Legal.
Arcene
is a
civilian model, and is unrestricted on most worlds.
INTENT​
To give Hannibal a personalized, flashy airspeeder he can share with friends.