Joined

Jul 1, 2017
Messages

48
Reaction score

22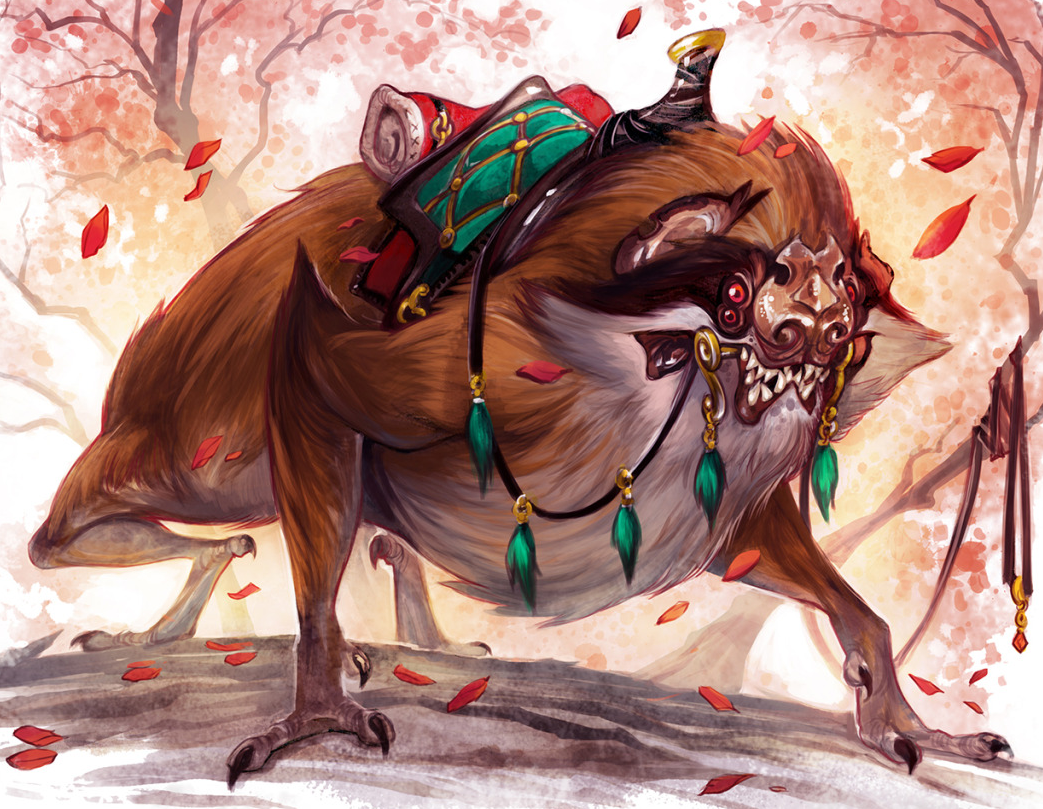 ​
Biology: The tarvix is a domesticated beast common throughout Arbooine. This arboreal mammal has four small eyes toward the front of its squat head, although it depends more on its acute sense of smell to find its way. It has a thick coat of dark bristles, which offers some degree of protection against bearsloths and other predators. Although not particularly fast, tarvixes are tough and dependable, and just as adept at scaling trees as walking on the forest floor. They come in two sizes - Common and Miniature, with the former being used a mounts and beats of burden, and the latter acting as hunting animals or as household pets.
Breeding: Tarvix are similar to common dogs in their breeding habits, with sexual maturity being reached between the ages of 6 to 12 months. As domesticated animals, they have been bred to have a higher libido than their ancestors over the generations, leading to steady reproduction cycles if left to their own devices in mated pairs. Average littler is 5-6 pups.
Strengths: A keen sense of smell, thick, bristled coat, high levels of endurance, easy movement horizontally and vertically.
Weaknesses: Poor eyesight, slow moving speed, pack dependent nature.
Diet: Despite having a ferocious appearance, Tarvix are herbivores, sustaining themselves mostly on leaves, nuts, and hanging fruit.
Behavior/Temperament: Tarvix are loyal, pack-minded creatures, and are inheriently sociable both among themselves and with their Sathari keepers. Though their temperament ranges across the wide gamut of emotions, they are all highly trainable if started at a young age, and even those with the wildest of hairs can become competent work-creatures and loving pets.
Communication: Grunts, growls, barks and hisses.
History: The tarvix is a native Arbooinian creature that the Sathari domesticated for use as a riding and pack animal thousands of years ago. Found early on to be easily trainable a pack-oriented, Sathari quickly developed methods to use this to their advantage, and eventually train and breed the animals into the domestic and helpful animals they are today. A Tarvix is a Sathari's best friend.
Intent: The Tarvix is a race of creatures specifically from the same book (Chronicles of the Gatekeeper) that the Sathari stem from. The intent of this submission is to provide a suitable mount/hunting companion for Sathari characters.
Last edited: