Joined

Nov 26, 2018
Messages

68
Reaction score

8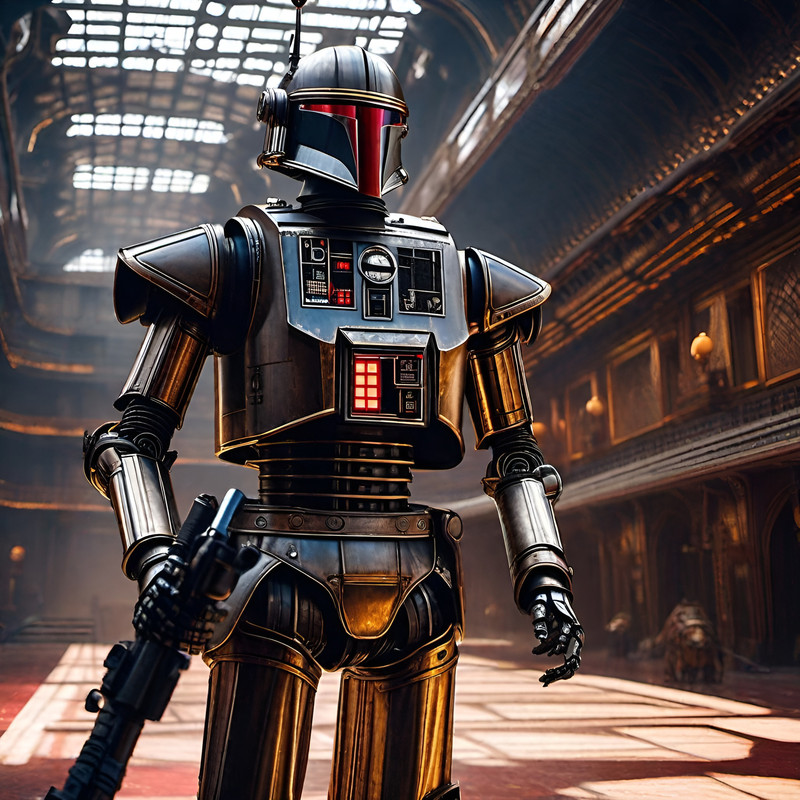 wA-21 Battle Companion
AFFILIATION

Mandalorian Clans



MANUFACTURER

MandalMotors



CLASS

Battle Droid



LOCOMOTION

Bipedal & Jetpack
POWER SUPPLY
Rechargeable Battery:
24-72 hour lifespan
SENSORS
Multi-angle photoreceptor visor + infrared overlay
2-audioreceptor
1-rangefinder
SIZE
1.8 meters
COMPOSITION
Armored Durasteel
TOOLS & EQUIPMENT
jetpack

2-pneumatic fists

mag-lock feet

enhanced reflexive responsiveness

state-of-the-art tactical processing unit

This model does not come armed, but is programmed to utilize a variety of battlefield weapons



DESCRIPTION​
The wA-21 Battle Companion was designed originally to supplement traditional Mandalorian battlefield forces. In such a capacity, these droids would operate alongside hardened Mandalorian commanders as steeled foot soldiers plunging into the heat of battle or independently in environments that were deemed too hostile for even the most stalwart Mandalorian forces. Today, these droids are more often found in small detachments or working as cohorts alongside solitary Mandalorians throughout the galaxy or acting as lethal security on and about Mandalorian vessels and bases of operation.
Standing shorter and more compact than the average battle droid, the wA-21 made itself less of a target on the battlefield.
With it's unorthodox battlefield programming, supplemented by the Mandalorian Resol'nare, this droid was uniquely Mandalorian. Capable of processing a variety of languages, the wA-21 could only communicate in Mando'a or a primitive form of droid speak. Each droid sought to uphold the Mandalorian tenants and had a deep-seated programming to preserve Mandalorian life; all other life in the other hand was optional and hardly worth consideration. For this fact, many saw the wA-21 as a brutal combat platform, limiting it's use in more civilized societies and situations where finesse and discretion were required. The only finesse shown by the droid was in it's ability to maneuver and deliver exceptional lethality on the battlefield. With a mind full of battlefield tactics, and a limited flight ability, the wA-21 could strike from a variety of unseen angles and locations.
The wA-21 are bulk crafted from armor-plated durasteel. Their T-visored shaped heads betray their origins as nothing short of Mandalorian. With such acute sensors, rapid cognitive neural processors, and enhanced reflexes, the rechargeable battery lifespan can fluctuate significantly. When acting in a patrol or sentry mode, the battery can last up to 72 hours; however, in prolonged combat, or when utilizing the jetpack, the draw on the battery is much more significant reducing the total time between recharges to as little as 24 hours. Given such extreme fluctuations and favoring tactical processing over brute strength, the manufacturers opted to not include any onboard weapons. Any after-market upgrades halve the life of the the droid, per upgrade, meaning upgrades render the droid all but useless outside guard duty.
The wA-21 is not a social droid. It cannot provide translations, and it does not adhere to traditions or customs beyond those of it's manufacturer. It is viewed by many as a barbaric tool, and if left too long without a memory wipe, these barbaric tendencies seem to manifest more and more.
LEGALITY​
Illegal outside of Mandalorian controlled space. Even there, ownership is highly restricted. Infantry droids are generally highly restricted under interstellar law, with personal ownership being banned. The wA-21 is not capable of being reprogrammed to a point where it is anything less than brutal. Given it's barbaric tendencies, regular mind wipes are required for all models.
INTENT​
This model was created to provide Mandalorian players with an alternate NPC option to utilizing flesh & blood troops. This also provides solitary Mandalorian players with a sidekick, while also being usable as a PC.
RESTRICTIONS​
Restricted to use by Mandalorian players. Usage of droids of this type are subjected to extra scrutiny in PvP storylines.
This droid can be upgraded with standard armor or droid upgrades; however for each upgrade installed the battery battery life is halved.
Last edited: