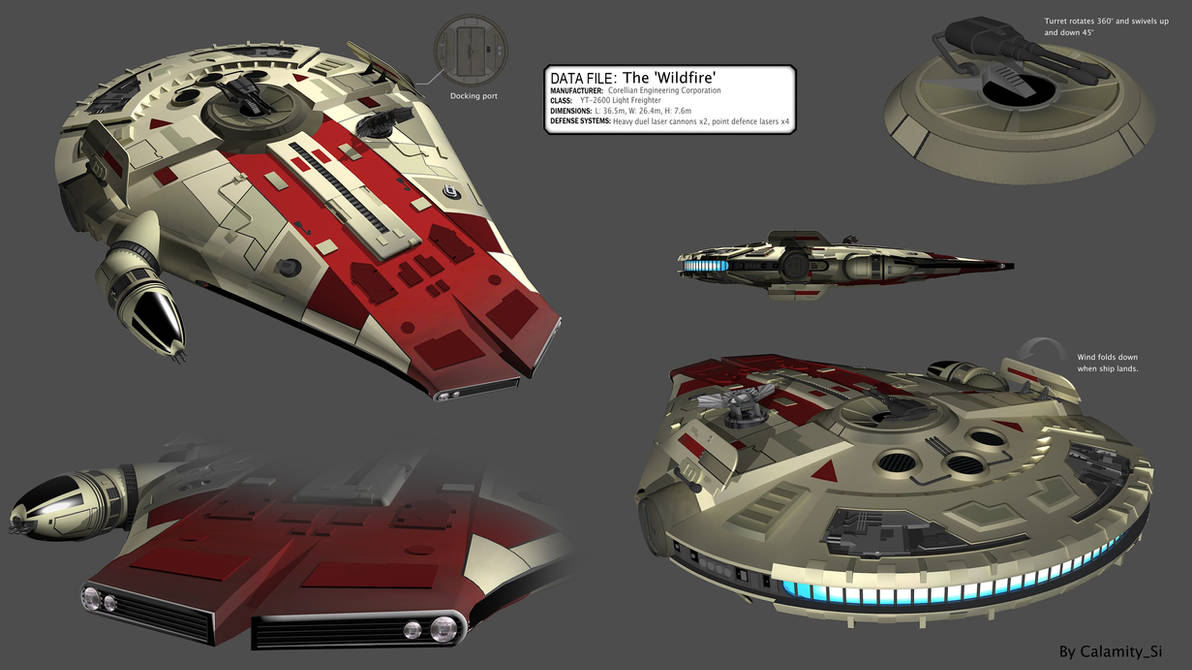 YT-2600 Light Freighter
AFFILIATION


Open Market

MANUFACTURER
Who builds it?

CLASS
Anaxes War College System
(KEEP THE LINK IF APPLICABLE)

ROLE
Corellian Engineering Corporation

COMPOSITION
Durasteel and Transparisteel

DIMENSIONS
Length: 38 Meters


CREW
4 Minumum, 6 Maximum
PASSENGER CAPACITY
6 Passengers
CARGO CAPACITY
75 Tons
HANGAR CAPACITY
N/A
CONSUMABLES
6 Months
SPEED/MANEUVERABILITY
55 MGLT and Average Manuverability
ARMAMENT
2x Tractor Beam
1x Dorsal and 1x Ventral Dual Medium Laser Cannon
1x Chin Mounted Dual Laser Cannon
EQUIPMENT
1x Class 1 Hyperdrive
1x Class 10 Backup Hyperdrive
1x Medium Deflector Shield
1x Long-range Communications Array
1x Long-range Sensor Suite
1x Navicomputer
1x Storage Loading Arms
2x 6-being Escape Pods
2x Docking Ports
Optional Mining Package [Added 1x Tractor Beam, added 2x Mining Lasers, added 2x external cargo claws]
Optional Reconnaissance Package [Added 1x Sensor Scrambler, added 1x Communications Encrypter]
Optional Exploration Package [Added 4x Fore External Floodlights, added 1x Back Up navicomputer, added 1x Automapper]
DESCRIPTION​
The YT-2550 sold well enough that Corellian Engineering Corporation decided to continue on with making a new design, but they noticed that the interest in yet another purely civilian freighter was minimal. That introduced a conundrum, where many niches are either already filled or can be filled by other craft. This led R&D down a rabbit hole to discover what has not been oversaturated, and they came back with an interesting market: surveying, exploration, and reconnaissance. A simple freighter design, which easy to maintain, stable, and can last for a long trek without needing a resupply.
After countless failed designs, the YT-2600 finally took form and was released onto the market as a limited production run design with various mining, reconnaissance, and exploration packages. It's stock form was 38 meters in length and carried two dual light laser cannon turrets, and unlike the previous craft it was primarily for speed and long ranged trips. Those who were able to review the design said it was a rather fine long ranged freighter, and it's various design packages added to the craft's value, but it was not really very noteworthy. It sold out rather quickly during its first production run with few flaws found beyond the sensitivity of the communications array at the longest ranges.
This somewhat positive reception combined with the quick sales of the first production run has led CEC to make a habit of, every few years, kicking the production lines back into operation and a few hundred are produced and sold before they go dark again. With each run, the design is further and further refined: the sensor and communication ranges are lengthened, the hull is further refined and strengthened, and even several packages are updated and tweaked. This makes these craft a rare sight in the modern day, as not many are ever produced, yet when one is seen its not very surprising.
LEGALITY​
(Mining and Exploration Packages) Legal. Light freighters such as the YT-2600 are considered innocuous enough under most jurisdictions, and are not restricted in most systems.
(Reconnaissance Package) Restricted. Due to the existence of several illegal mods for civilian to have, and how little it changes the design of the craft, the Reconnaissance Package variant of the YT-2600 is a very hard craft to get a hold of. Any civilian operators not a part of a company would be met with heavy scrutiny, and even then those who do legally own them are subject to additional licenses and fees.
INTENT​
To introduce a light freighter that can also act as an exploration vessel and to add a new instillation in the YT line.