RANCOR SQUAD!
SWRP Writer
Joined

Dec 1, 2015
Messages

8,789
Reaction score

4,817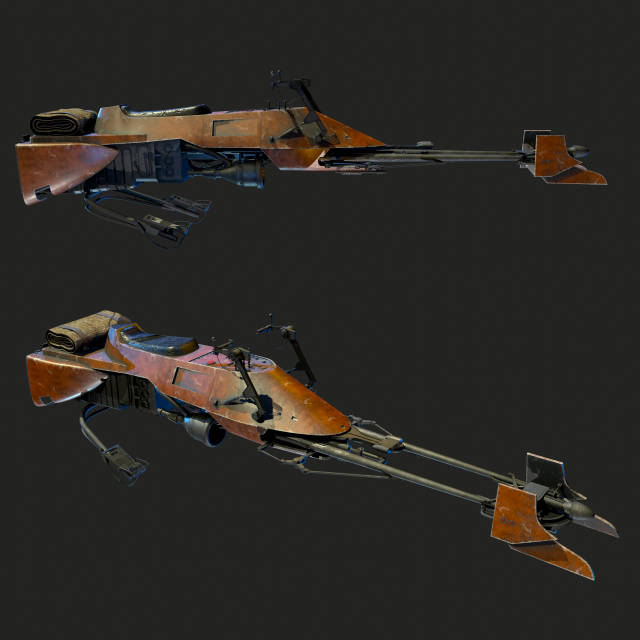 "Locust" retrofit 74-Z jumpspeeder
AFFILIATION


Maan Vizsla
Open Market.

MANUFACTURER
Aratech Repulsor Company.

CLASS
Jumpspeeder.

ROLE
Utility repulsorcraft.

COMPOSITION
Durasteel.

DIMENSIONS
Length - 3 meters.
CREW
1.
PASSENGER CAPACITY
1.
CARGO CAPACITY
4 kg.
CONSUMABLES
1 standard day.
SPEED/MANEUVERABILITY
The 74-Z has a top speed of 400 kph and can reach an altitude of 25 meters. It has excellent maneuverability.
800 kph and 21 meters w/ turbine de-limited
ARMAMENT
1x medium blaster cannon.
EQUIPMENT
"AFTERMARKET" EQUIPMENT
DESCRIPTION​
With the ability to transport one passenger and possessing a signal jammer, makes the 74-Z a model of jumpspeeder that Maan likes to use during his missions. A blaster cannon upgrade is standard with his own vehicle. The increase in firepower at the expense of speed is minor. This actually helps to prevent high speed fatalities that would have otherwise been non-lethal at slower speeds.
These upgrades are legally incorporated and Maan Vizsla has the receipts to prove it. Sometimes during a prolonged operation, Maan may instruct his subordinates to make "necessary" adjustments to their assets by
de-limiting their turbines
. While this is almost never done beforehand at the risk of it coming out of his own pocket, it is easily something that the Trandoshan considers a business expense or something he can pass off as collateral damage. Should he or his like-minded peers choose to make these adjustments the jump speeder's altitude drops to 21 meters but the top speed increases to 800 kilometers per hour. This is only when faster transport is not readily available but is required.
Versions of these jumpspeeders are used by contractors and mercenaries that work alongside Maan Vizsla. Usually these are carried onboard
mobile tac pods
so they can be brought planet-side. Maan Vizsla has a personal model he has added to his collection of bikes.
LEGALITY​
Restricted. 74-Zs are combat craft, and are subject to extra licensing requirements and increased scrutiny by authorities. Upgrading a vehicle with blaster cannons is considered unlawful in much of the Galaxy, or is at least subject to permits and special licensing.
INTENT​
To have a modified bike for my character. He likes bikes and will collect other jumpspeeders and do the same but this model is good for "business". It seems like it might also commonly be used by other mercenaries.
74-Z
original model.