Joined

Dec 14, 2020
Messages

206
Reaction score

89
Iron Skin Resistance
History:
After the destruction of Mandalore, many of it's people left the planet. Rumor had spread across the galaxy that the planet, the Mandalorian's home was cursed. For over a hundred years the planet lay almost deserted save for a few pirates and holdout Clans. The sector would remain much in a limbo for years.
That was until a young man named Malinkar conquered parts of Concord Dawn In 115 ABY. With his self-perceived conquest of Concord Dawn, he would bring his region of control under his iron fist. Malinkar would also use the Mask of Mand'alor to declare himself to be the Manda'lor.
A Mandalorian named Kom'rk returned to his home in Concord Dawn and saw the tyranny that Malinkar was inflicted on it. The way Malinkar and his soldiers, the 'Blood Legion' treated their people was outrageous and he could not stand to see it. This brave Mandalorian warrior formed the Iron Skin Resistance. For 20 years he has been fighting against the wrath of Malinkar with little to no hope in sight. The Iron Skin Resistance and the Orar'da'yadr would fight hard to not only loosen Malinkar's grip on Concord Dawn, but also keep his influence from spreading to other areas of Mandalorian Space. People were loyal to him as they believe him to be worthy of the title Manda'lor others, loyal because of fear. Some, however, do genuinely believe in Malinkar's beliefs and that he has united the Mandalorian people.
The resistance has attracted many Mandalorians over the years who wished to free Concord Dawn from the tyrannical rule of Malinkar and end his threat to the Mandalore Sector. The Resistance has been open to all kinds of different Mandalorian creeds, as long as they adhere to the core Mandalorian creed they are welcomed to fight with them. As such there is no core belief system within the Resistance, as such some of the people within adhere to the Way of the Mandalore, others don't, some are strict and some are not.
Aims and Objectives:
The primary focus of the Iron Skin Resistance is to expel the tyrannical warlord known as Malinkar from the sector. Malinkar and his forces have a tight hold over the world of Concord Dawn and are currently trying to expand to other areas of Mandalorian Space. This is mainly due to his forces and the fear he strikes into the people of the planet. The Iron Skin Resistance wish to truly unite the Mandalorian people, not through fear but through true loyalty and democracy. They believe Malinkar is antithetical to the Mandalorian people, his actions only cause more friction between them.
Organisation:
The resistance is organized loosely. It does have formal military companies and battalions etc. but nothing is concrete due to the nature of the war that they are fighting. Members of the resistance are forced to move from safehouse to safehouse across the cities they operate in, relying on those who are sympathetic to the cause. As such these members and squads attack scarcely, seeking out the opportunities to attack and doing so when they can. There are members who operate more formally outside of the cities however and have encampments which they operate from. There are also some 'Flying columns' who are capable of rapid mobility and move from city of city using hit and run, ambush tactics and guerrilla warfare to their advantage. Due to the pressures put on the Resistance by the Blood Legion funding is hard to come by and as such all members use their own equipment. There is no issued equipment and uniform, the members typically wear their own beskar'gam and use their own guns.
(the intent of this is to provide an actionable Mandalorian Faction that doesn't require a Mand'alor to function. The Iron Skin Resistance (after their victory of Malinkar) may in fact evolve into Mandalorian Protectors and advance the faction from there. A shout out to
@Faust Rex
for helping along the way)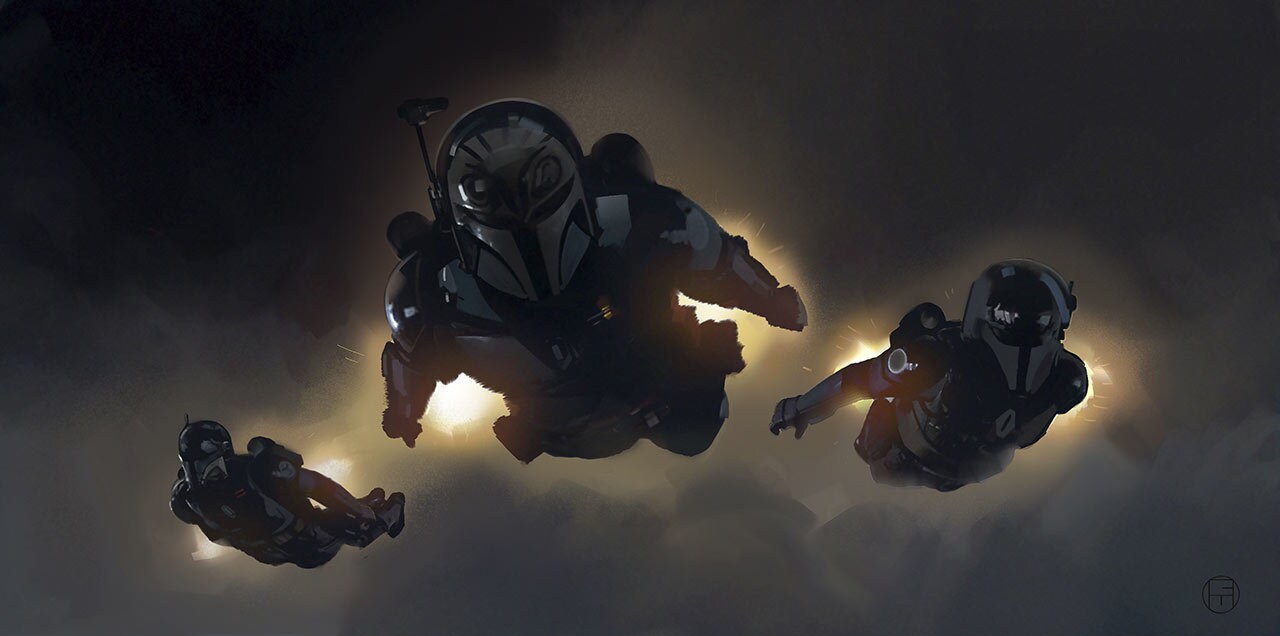 Ranks:


Verd:
This is they starting rank in the Protectors, soldiers of this rank are generally fully trained Mandalorians but may not have experience working in a group of their fellow Mando'ade and may have been lone wolves prior to the inception of the Resistance. This starting rank allows them to get the grasp of working in teams and with their kin. These soldiers make up the core of the Resistance's forces and are highly dependable warriors owing their culture. The war has been difficult for many of the resistance fighters and as such a lot of the warriors don't make it past this rank.
Ruus'alor:
This rank is the equivalent of Sergeant in other armies. Ruus'alor are junior leaders. They are able to take charge of a small squad of Mando's to accompany them on missions. Ruus'alor are experienced soldiers and have proven themselves to work well with their vode and even lead a squad. As leaders they can issue commands to those below them and take commands directly from those above. Soldiers of this rank are a bit more common than the rank of Alor'ad but there are again few of them.
Alor'ad :
This rank is the equivalent to a Captain rank in other armies. Alor'ad act as senior leaders within the faction and often issue commands to the Ruus'alor under their charge as they see fit. Alor'ad are veteran soldiers who have proven to be the best of the best. They are seasoned leaders and take orders directly from the Al'verd. They are usually given charge of a battalion of soldiers and may lead entire forces in a city. They are few and far between, owing to how harsh the war has been.
Al'verd:
This rank is the highest leadership rank. There can only be one Al'Verd at a time and they have supreme command over the Mandalorian Protectors. This is the most senior rank within the Protectors and is reserved for those who have deemed themselves worthy by their fellow kin. This role is electable and those who are elected to this rank keep it for life or until they resign/retire. The starting Al'verd is Kom'rk.
Last edited: