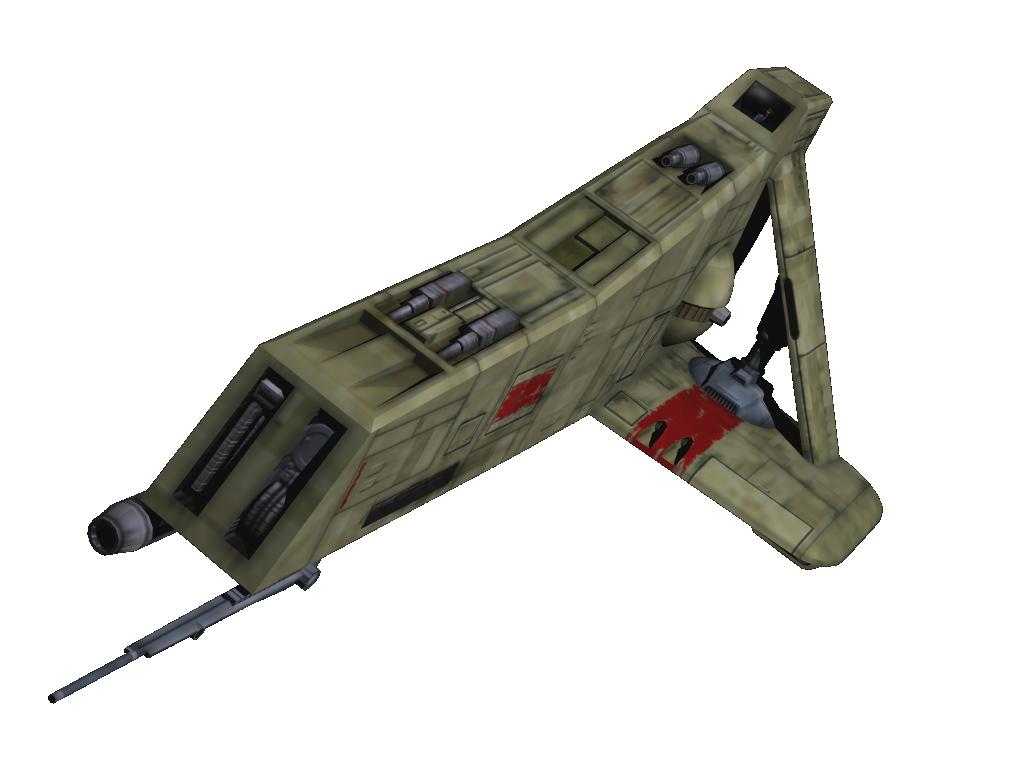 Pursuer-class Enforcement Ship
AFFILIATION


Open Market

MANUFACTURER
Mandal Motors

CLASS
Heavy Patrol Shift

ROLE
Prisoner Transport

COMPOSITION
Titanium and Transperisteel

DIMENSIONS
Length: 30.1 Meters


CREW
1x Pilot
PASSENGER CAPACITY
7-8 Passengers
CARGO CAPACITY
30 Tons
HANGAR CAPACITY
N/A
CONSUMABLES
5 Weeks
SPEED/MANEUVERABILITY
95 MGLT and Average Manuverability
ARMAMENT
2x Dorsal Medium Laser Cannons
1x Ventral Light Ion Cannon
1x Concussion Missile Launcher (6x Missiles in Magazine) OR Proton Torpedo Launcher (4x Torpedos in Magazine
EQUIPMENT
1x Class 1 Hyperdrive
1x Class 16 Backup Hyperdrive
1x Medium Deflector Shield Generator
1x Navicomputer
Prisoner Security Suite
DESCRIPTION​
The Pursuer-class Enforcement Ship is a legacy design, built long before the Clone Wars by Mandal Motors to offer a heavily armed prisoner transport to the galaxy. During the Clone Wars, however, this craft was used primarily to patrol and defend Confederacy of Independent System planets. The relation to the CIS never tarnished the line, as after the Empire rose to power they just became more and more popular through the galaxy. Many pirates and bounty hunters got their hands on these craft (surprisingly mostly through legal means too!) as those who fought against them saw their potential. This popularity never really waned throughout the years, as variants began to be developed by Mandal Motors to cover the needs of the masses. Though not as common as it was during its time, it still is quite available around the galaxy due to it still being ongoing.
During it's time it was a rather solidly built machine, being slightly over 30 meters long and built with military armaments and defenses as stock. This was ramped up as production moved along through the decades, as Mandal Motors decided to add one one of the most popular and common modifications into the base ship design: a missile or a concussion missile launcher. That complements the already heavy armaments of the ship, which makes it still viable hundreds of years after it was initialized. Other variants have shown up; as though there is the stock room layout that allows for five guards and three prisoners, there is a much newer design that removes one of the guard rooms (reducing their capacity down to three) in order to hold an additional three prisoner cells. What makes it more special is it always has been quite a modifiable ship, and due to it's age it has just become even more modifiable. Some have even said all you need is the frame of the ship and you can build whatever you want out of it. Every version of the ship, however, comes stock with a special security system. This involves cameras in each cell, as well as automated nutripaste dispensers, and even the cell door locks. This system is heavily encrypted, so it can only be accessed by the pilot at the controls.
LEGALITY​
Restricted. Pursuer-class Enforcement Ships are heavily armed and armored prisoner transports, and are subject to extra licensing requirements and increased scrutiny by authorities.
INTENT​
To introduce a widely available prisoner transport from Legends into our site's cannon. Also to offer a ship that can be used by mercenaries, pirates, and cops alike.
Last edited: